Brave Like Me!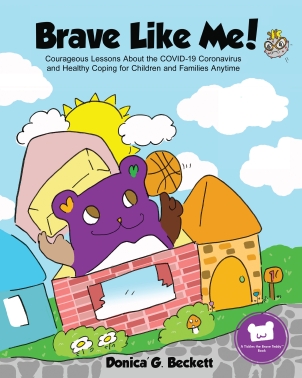 Paperback
Buy from:

Brave Like Me! is HERE!
Launched: OCTOBER 2021

Upon launch YOUR support helped us obtain an Amazon
#4 Best Sellers rank in Preventative Medicine & #1 New Release in Preventative Medicine and Pediatrics categories! THANK YOU!
*
Join our mailing list
(add your email address, first name and last name to the subscription box located on the left sidebar) to stay up-to-date with happenings!
►También disponible en español (Also available in Spanish).
Also coming soon
:
►
Brave Like Me!
Coloring & Activity Book
►Children's Health Journal
►Family Health Journal
***************************************************
When Tickles misses playing with friends, an unexpected visitor arrives to explain the coronavirus pandemic and how kids and their families may stay safe.

Designed to encourage understanding and boost confidence in children trying to cope with such huge changes, this easy-to-read, rhyming, and cleverly illustrated picture book also offers timeless and helpful information beyond the coronavirus. It teaches children in an empathetic manner, skills that they can use again and again to help them develop healthier habits and carry them into adulthood.

Brave Like Me! Courageous Lessons About the COVID-19 Coronavirus and Healthy Coping for Children and Families Anytime is the first children's book in the Tickles the Brave Teddy™ family health literature series. Come along! Be on the look-out for more adventures to enjoy as Tickles and friends bravely explore such a big world, sprinkling joy and lessons along the way. These empowering stories aim to inspire a culture of family health and ignite joy and happiness among diverse communities with every read for generations to come.

Brave Like Me! goes far beyond lessons about the COVID-19 coronavirus, however. This informational resource:

Documents a historical event for future generations to study.
Offers social/emotional support ideas for families during any natural disaster crisis.
Encourages healthy relationship building and communication among family and friends.
Promotes empowering messages about self-esteem and self-love.
Celebrates diversity and inclusion.
Fosters daily personal hygiene and self-care practices.
Highlights career exploration, including public health (STEM) careers.


Brave Like Me! also supports educational connections, adding value to any classroom through:


Science
Health/PE
English Language Arts and Reading
Geography
Art
& Math

Product Details:

Paperback: 70 pages
Dimensions: 8 x 0.17 x 10 inches
Weight: 1 pound
Language: English
Audience: ages 6-9 (yet still a great read for family members of all ages)
Publisher: Complete Package Publishing and Communications, LLC
ISBN: 978-1-7367107-0-8

Book Reviews:

"The whole book is good! And it helps you be safe and healthy." -Makenzie S., Age 7

"This book is such a family friendly reading essential. And the content is helpful for families beyond the coronavirus because it can be used as an informational resource. Having the correct information also helps to minimize fear, especially in children, and provides the opportunity for questions. This type of content can also help encourage a new generation of public health leaders."

-Leola Griffin, Mom & Clinical Research Professional

"The author explains the coronavirus in pictures and words young children can understand. Our family read this book together and enjoyed every word. Daycares, schools and other institutions that work with children should definitely order copies!"

-Amazon Customer

Get your copies now.

And please leave us an online review once you've received your copies. We greatly appreciate your support! :)